Seasonal Farmhand Site Staff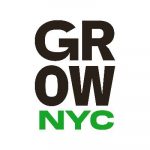 GrowNYC
GrowNYC is a 53-year-old environmental nonprofit organization - helping more than 3 million New Yorkers by providing essential services and taking action to make NYC a livable city, one where every person can enjoy a healthier, more sustainable life. In particular, our network of Greenmarkets, Farmstands, Fresh Food Box sites, and GrowNYC Wholesale ensures that all New Yorkers have access to the freshest, healthiest local food.
This job has been expired
Description
Position Summary: The Farmstand Staff will help sell fruits, vegetables, and other products outdoors throughout New York City under the supervision of the Farmstand Site Lead (rotating position.) The Farmstand Staff will be cross trained on all aspects of the Farmstand Site Lead role,and may be asked to fill in as the Lead as necessary. Please note that some positions require driving and therefore a drivers license. The Farmstand Staff position is seasonal and is part-time or full-time depending on availability of applicants and Program needs.
Responsibilities:
Set up and break down of the farm stand, carrying equipment and cases/bags of produce weighing up to 50lbs, folding tables and tents, and performing other physical labor
Daily market operations— product display, merchandising, sales, customer service, inventorying and site clean up according to schedule
Perform debit/credit, cash, EBT and other nutrition benefit transactions
Answer customer questions regarding food access and initiatives programs
(For Driving Positions) Complete additional trainings on GrowNYC vehicle policies and safe driving. Safely operate a van on NYC roads and highways, distributing market equipment to Farmstands and reporting vehicle issues immediately when they arise.
Qualifications:
Early riser who enjoys working outdoors in all weather conditions
Experience working in retail and/or with sales
Willing to work weekdays and weekends
Enjoys talking and working with people of all backgrounds
Comfortable working with the public in a variety of NYC neighborhoods
Strong communication skills, both written and verbal
Works well both independently and as a member of a team
Excellent time management and organizational skills
Creative problem-solver, able to troubleshoot and use good judgment to make on-the-spot decisions
Able to lift up to 50 lbs
Ideal Qualifications

Passionate about farming, farmers markets, local agriculture, cooking, and/or food access
Experience in community outreach, and has an understanding of inequalities in the food system
Familiarity with Google Suite
Have a valid driver's license and willingness to drive a cargo van (not required for all positions)
Fluency in multiple languages is a big plus (especially, but not limited to, Spanish, Mandarin and Cantonese)
Salary: $20/hr