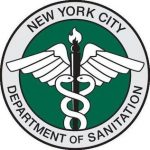 NYC Department of Sanitation
The New York City Department of Sanitation (DSNY) keeps New York City healthy, safe, and clean by collecting, recycling, and disposing of waste, cleaning City streets and vacant lots, and clearing snow and ice. DSNY is the nation's largest municipal sanitation agency, with nearly 10,000 employees, 59 district garages, and a fleet of more than 5,000 trucks, cars, and other types of equipment. The Department clears litter, snow, and ice from approximately 6,500 miles of City streets and removes debris from vacant lots as well as abandoned vehicles from City streets.
Description
Position Summary: The DSNY Energy Team is housed within DSNY Support Services group. The DSNY Energy Team is committed to implementing energy management best practices across DSNY's portfolio of buildings and operating facilities to help the City meet its ambitious greenhouse gas emissions and energy reduction goals. The team works to track overall energy usage and identify energy-saving opportunities in DSNY buildings; deliver energy efficiency retrofit and clean energy projects; implement energy-efficient operations and maintenance practices; and support energy management training and behavioral change. The person in this position will serve as the Energy Manager for DSNY, working primarily on Capital Projects but also on Expense Projects.
Responsibilities:
Support Capital Planning Efforts The Energy Manager will be responsible for coordinating meetings with the Office of Management and Budget, Department of Citywide Administrative Services (DCAS) Division of Energy Management (DEM), DSNY Facilities Planning and Engineering (FP&E), and the Bureau of Building Maintenance (BBM) to coordinate capital planning efforts. The Energy Manager will be the primary point of contact for DSNY as it relates to all capital work, and will host weekly smaller focused group sessions with DEM and relevant parties at DSNY to advance the capital planning effort.
Providing essential direction and management for ASHRAE Level 3 Energy Audits: The individual will be responsible to work within FP&E's capital planning division to identify facilities with the greatest capital need for investment and opportunity for energy efficiency improvements. Once identified the Energy Manager will be responsible to: apply for funding to perform Level 3 Energy Audits. The Energy Manager will work with the Agency's Legal group and ACCO to develop contracts, write scoping language, and procure services to execute ASHRAE Level 3 Energy Audits. The Energy Manager will issue notices to proceed, manage vendors, and coordinate meetings with FP&E, BBM, and Bureau of Cleaning and Collections (BCC) to identify ECM packages that are most suitable for the Agency. The Energy Manager will then support the DSNY Capital group by procuring funding, through the DEM, to execute projects.
Provide Commissioning support and expertise for new construction and major rehabilitation projects: Working with the FP&E and DSNY's Energy Controls Specialist the Energy Manager will support the Agency by developing commissioning scopes for commissioning contracts, interviewing the commissioning team to approve team members, and providing general directions to the commissioning team by reviewing commissioning deliverables such as the commissioning plan, pre-functional test procedures, functional test procedures, and systems manuals prior to execution and finalization. The Energy Manager will also provide support to the construction team during the design and construction phase by attending milestone design deliverable meetings, milestone commissioning design reviews, and coordinating commissioning activities and walkthroughs with DSNY's Bureau of Building Maintenance and Engineering teams.
Supporting DCAS DEM capital projects implementation team on behalf of DSNY: The Energy Manager will be responsible for developing projects for and supporting the efforts of DEM's Capital Implementation (CPI) team. The successful Energy Manger will provide commissioning support as outline above for all projects that are managed under the direction of the CPI team.
Modernize DSNY Facilities using DEM's Accelerated Conservation and Efficiency (ACE) Program: The Energy Manager will be responsible to identify Agency needs and parlay the findings of ASHREA Level 3 Energy Audits into ACE funding applications. The candidate will work closely with the capital group to advance administrative procedures to execute capital projects. The Energy Manager will work with Engineering to support writing scoping documents for vendor contract to ensure ACE projects are successfully executed. The Energy Manager will transition ACE projects to the Engineering group to manage, however will stay involved in ACE projects by coordinating monthly update meetings for projects, managing DEM deliverables, and being quality control and commissioning resource to ensure the project intent, as outlined in the application, is met during design and construction.
Provide support to DEM's NYPA Lighting Upgrade team: The Energy Manger will be the primary point of contact for DEM's NYPA Lighting upgrade program. In this roll the Energy Manager will coordinate preliminary walkthroughs, identify test fixture locations, review design documents, and coordinate design reviews with Engineering, coordinate construction planning and scheduling efforts with the Bureau of Cleaning and Collections (BCC) facilities division, support substantial completion walkthroughs, support final completion walkthroughs, develop and administer punch lists, and provide sign off with BCC facilities for construction milestones.
Qualifications:
1. Eight years of full-time experience in construction, repair, alteration and/or rehabilitation of multiple dwellings, commercial, industrial or public buildings in the capacity of general contractor, superintendent of construction, procurement specialist, evaluator responsible for cost estimation, or as a field supervisor or as an inspector, at least 18 months of which must have been in a supervisory or administrative capacity involving responsibility for a large number of buildings; or
2. Education and/or experience which is equivalent to "1" above. Education in an accredited college leading toward a baccalaureate degree in engineering, architecture, engineering technology or a closely related field will be accepted on a year-for-year basis up to a maximum of four years. However, all candidates must possess at least 18 months of the specialized supervisory or administrative experience described in "1" above.
Salary: $58.7-100k annually