Deputy Director of Medical Division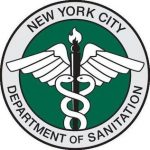 NYC Department of Sanitation
The New York City Department of Sanitation (DSNY) keeps New York City healthy, safe, and clean by collecting, recycling, and disposing of waste, cleaning City streets and vacant lots, and clearing snow and ice. DSNY is the nation's largest municipal sanitation agency, with nearly 10,000 employees, 59 district garages, and a fleet of more than 5,000 trucks, cars, and other types of equipment. The Department clears litter, snow, and ice from approximately 6,500 miles of City streets and removes debris from vacant lots as well as abandoned vehicles from City streets.
Description
Position Summary: DSNY seeks to recruit an experienced candidate to serve as Deputy Director of the Medical Division. This Division consists of several units which include the Health Care Facility, Drug and Alcohol Testing, Employee Assistance, Supervised Sick Leave, Medical Records, LODI Billing, and administration. Under executive direction and with wide latitude to exercise independent judgment and initiative, the incumbent and the Director will be responsible for the overall management of the Medical Division.
Responsibilities:
Oversee Division operations; continually assess, evaluate, and improve activities using performance metrics and quality assurance measures

Oversee Division administrative functions including (but not limited to) contract compliance, internal budget, human resources, timekeeping, reporting, and other administrative tasks

Provide consultative guidance, practical advice, information, and updates to agency personnel at all levels on issues related to Division operations

Provide data and pertinent information to the executive leadership staff on matters relating to trends in employee medical leave, workers compensation cases, line of duty injuries, absence control, medical separations, medical duty status assignments, etc.

Collaborate productively with colleagues within the Division and throughout the agency

Actively create a culture of inclusion and collaboration within the Division and across the agency

Create sustainable equity-focused processes and procedures; support ongoing implementation and growth of an equity framework both internally and externally

Review and develop processes and procedures to ensure compliance with City, State, and Federal rules and regulations; make recommendations related to the implementation and modification of processes to increase efficiency and effectiveness

Make data driven recommendations for the improvement of processes and administrative policy and procedure to ensure more efficient and productive operations

Critically evaluate new scientific information and ensure effective program monitoring and evaluation to create or incorporate pioneering approaches to the Division's work

Prepare reports and presentation materials for briefings with external and internal stakeholders

Identify effective communications strategies to engage workforce members, medical professionals, and other strategic partners in ways that advance the Division's goals

Implement best practices in employee health service delivery

Assess the need for and practicability of additional employee wellness programs; conduct needs assessments and/or surveys with the DSNY workforce to current unmet needs that the Medical Division can address

Direct the design and implementation of evidence-based regulations, policies, and programs to promote health and safety

Work with the Information Technology team to implement and maintain appropriate technology solutions to support Division operations

Supervise and mentor Division staff responsible for day-to-day operations, including setting appropriate and measurable goals and objectives

Institute standardized supervisory practices that support staff development

Identify professional development needs and promote training opportunities for Division staff

In the absence of the Director, assume the duties of the Director and ensure continuity of operations

Represent the Director and Division in meetings with senior agency leadership and other key stakeholders

Other related duties as assigned
Minimum Qualification:
A master's degree from an accredited college in economics, finance, accounting, business or public administration, human resources management, management science, operations research, organizational behavior, industrial psychology, statistics, personnel administration, labor relations, psychology, sociology, human resources development, political science, urban studies or a closely related field, and two years of satisfactory full-time professional experience in one or a combination of the following: working with the budget of a large public or private concern in budget administration, accounting, economic or financial administration, or fiscal or economic research; in management or methods analysis, operations research, organizational research or program evaluation; in personnel or public administration, recruitment, position classification, personnel relations, employee benefits, staff development, employment program planning/administration, labor market research, economic planning, social services program planning/evaluation, or fiscal management; or in a related area. 18 months of this experience must have been in an executive, managerial, administrative or supervisory capacity. Supervision must have included supervising staff performing professional work in the areas described above; or

2. A baccalaureate degree from an accredited college and four years of professional experience in the areas described in "1" above, including the 18 months of executive, managerial, administrative or supervisory experience, as described in "1" above.
Skills:
A minimum of 10 years of professional experience leading or managing employee health services operations, occupational health divisions, large scale medical facilities, or employee and workplace wellness operations of considerable size and complexity.
Knowledge of employee/occupational health service delivery practices and programs.
Knowledge of established best practices in the fields of employee health and wellness.
Knowledge of FMCSA medical regulations applicable to CDL holders.
Professional experience with risk management in a healthcare setting.
Strong interpersonal and communication skills with the ability to effectively establish and maintain working relationships with internal and external partners.
Microsoft Office (Word, Excel, PowerPoint, Outlook) proficiency.
Salary: $80,931.00 – $208,826.00 (Annual)