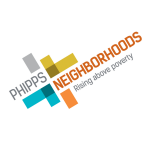 Phipps Neighborhoods
Phipps Neighborhoods helps children, youth, and families in low-income communities rise above poverty. We work in South Bronx neighborhoods where we can address the greatest barriers to lasting success through education and career programs, and access to community resources.
Description
Position Summary: 
Student Advocate will work closely with either elementary, middle and/or high school students, helping them to achieve their best in both academic and non-academic settings. He/she develops, implements, and participates in a range of activities all geared towards assisting students with positive enrichment that transcends their school career. Student Advocates will help students develop intrinsic and individualized strategies for meeting their goals and improving their academic and social skills. The primary goal of a Student Advocate is to provide support and structures to students to help them graduate, increase their daily attendance and reduce chronic absenteeism. The Student Advocate will meet this goal by facilitating small group interventions, and helping identify specific student needs.
Phipps Neighborhoods seeks full-time Student Advocates to fill positions at varying worksites in the Bronx.  Work schedule is Monday to Friday, 35 hours per week and hours are based on worksite needs.
Duties and Responsibilities: 
Please note that Phipps Houses and its related entities along with Phipps Neighborhoods, Inc. has adopted a COVID-19 vaccination policy to safeguard the health and well-being of our employees. As a condition of employment, all employees are required to be fully vaccinated for COVID-19, unless a reasonable accommodation is approved or as otherwise required by law.
Facilitate success mentoring and enrichment activities designed to improve attendance and academic performance of students
Provide supervision and ensure the safety of students at all times including scheduled events either in or out of the school building.
Engage students in a wide range of project-based learning activities
Accurately monitor student attendance during day school and after school activities
Develop lesson plans  and curriculum in accordance with program schedule, programmatic themes, objectives and outcomes
Conduct attendance interventions with students and/or
Document student progress as it relates to student achievement, successes, and attendance.
Plan and facilitate group workshops that promote student success and identify areas of concern.
Support school initiatives, such as lunch groups, push-ins/classroom supports, and advisories.
Model appropriate practices and behaviors at all times.
Uphold Phipps Neighborhoods  policies and procedures
Ensure proper use of supplies and materials
Maintain ongoing open communication with parents, students and school personnel.
Communicate with all staff, parents, students and community members respectfully and politely thus ensuring the reputation and integrity of Phipps Neighborhoods Inc.
Attend staff meetings, professional development workshops and program events.
Perform other duties as assigned by the Community School Director.
Establish a comfortable environment for students while adhering to and continuing the implementation of clear, consistent age-appropriate expectations and rules.
Maintain a professional working relationship with students, parents and school personnel.
Qualifications:
The candidate must have at least a High School Diploma or HSE, minimum of 12 college credits preferred
 Must have excellent communication and interpersonal skills as well as strong classroom management skills
Excellent oral and written communication skills and computer literacy
Bilingual (Spanish speaking) preferred
Enthusiasm, creativity and initiative
A sense of humor and a sense of urgency
Candidate should be able to multitask and take direction well
Able to deal with crisis in an appropriate manner
PHYSICAL DEMANDS
The physical demands described here are representative of those that must be met by an employee to successfully perform the essential functions of this job. Reasonable accommodations may be made to enable individuals with disabilities to perform the essential functions.
While performing the duties of this job, the employee is regularly required to stand; walk; use hands to finger, handle, or feel; reach with hands and arms; and talk or hear. The employee occasionally is required to bend, stoop, and kneel. The employee is occasionally required to sit. The employee must regularly lift and/or move up to 10 pounds, and occasionally lift and/or move up to 20 pounds. Specific vision abilities required by this job include close vision, distance vision, color vision, and ability to adjust focus.