Director of Outpatient Services – Chance for Change Program Director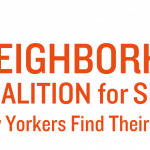 Neighborhood Coalition for Shelter
NCS serves New Yorkers who are struggling with homelessness, often compounded by mental illness or substance use. Established in 1982 by faith and community leaders on Manhattan's Upper East Side, NCS was founded on the premise that homelessness is the responsibility of the entire community. Today, NCS offers an array of housing and comprehensive services, including counseling, substance abuse treatment, vocational and educational programs, and employment support. NCS also provides education to the community to enhance public awareness and understanding and participates in coalitions working with government agencies and policymakers to address homelessness. With its partners in the community, NCS's dedicated board, staff and volunteers powerfully demonstrate what neighbors can do to reduce, prevent and ultimately end homelessness.
Description
Position Overview: Reporting to the Chief Program Officer, the Program Director will be responsible for the management, administration, outreach, and clinical functions of this OASAS-licensed outpatient treatment program. We seek a dynamic professional with an entrepreneurial mindset to grow and lead this unique program. Successful candidates will bring strong sensitivity to the needs of dually diagnosed homeless and formerly homeless individuals. The small size of this program gives the Director the opportunity to have a hands-on approach to day-to-day clinic operations, providing oversight, support, training, and strategic guidance. Chance for Change is poised for growth and needs a leader who can balance program management with a significant externally facing role in the community.
Responsibilities:
MANAGEMENT
Develop program budgets with Chief Program Officer and Chief Financial Officer and monitor expenses
Hire, train, and supervise staff (currently 2 FT counselors, PT biller, PT nurse practitioner, and PT medical director; team is anticipated to increase with program growth)
Supervise and monitor program compliance, record-keeping, and documentation
Facilitate a multi-disciplinary team approach, ensuring integration of agency-wide programs and goals
CLINICAL
Collaborate with Medical Director to ensure medical compliance with OASAS regulations and staff development
Implement NCS's vision for the program, which is informed by a harm reduction model, including creating a safe, welcoming environment that combines substance use treatments services and more comprehensive services
Provide individual and group counseling for clients
Create a client-focused clinic environment
OUTREACH
Assume primary role in developing and maintaining outreach activities to increase and maintain steady stream of referrals to program
Work with NCS's communications team to develop collateral materials to promote program to referral sources and potential clients
ADMINISTRATION
Supervise the program's biller to ensure reconciliation of all billing activities
Ensure compliance with OASAS regulations, including the timely submission of monthly statistical reports through OASAS's Client Data System and agency reporting requirements
Develop program budgets with CPO and CFO and monitor expenses
Supervise and oversee the administrative and clinical compliance and quality assurance
Other duties as assigned
Qualifications:
This is an extraordinary opportunity for an individual with clinical experience and an entrepreneurial mindset to grow a proven program. The successful candidate will manage a successful clinic, including ensuring a strong referral pipeline and program growth.
Specific requirements include:
Master's degree in social work or a counseling related profession is required
Licensure such as CASAC-MC or LMSW required, LCSW preferred
Minimum of 3 years managing an OASAS-licensed clinic (part 822)
Minimum of 6 years of experience with clinical substance use disorder treatment, including familiarity with mental health/co-occurring disorders and homelessness
Understanding of, and belief in, the harm reduction model
Strength in hiring, recruiting, managing, developing, coaching, and retaining employees
Experience with program development, growth, implementation, and project management strongly desired
Motivated to develop and implement a networking and outreach plan that results in increased client enrollment and program growth
Organized, with strong administrative skills
Proficient in using technology as a management reporting tool, including experience using AWARDS (or similar) database
Excellent verbal and written communication skills with exceptional attention to details; bilingual in Spanish highly desired
Personal qualities of integrity, credibility, and a commitment to and passion for NCS's mission
Physical Requirements:
Regularly required to use near sight vision to operate a computer.
Regularly required to use routine office equipment including a computer and a telephone.
Salary: $70,000 -$75,000