Deputy Chief Contracting Officer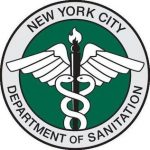 NYC Department of Sanitation
The New York City Department of Sanitation (DSNY) keeps New York City healthy, safe, and clean by collecting, recycling, and disposing of waste, cleaning City streets and vacant lots, and clearing snow and ice. DSNY is the nation's largest municipal sanitation agency, with nearly 10,000 employees, 59 district garages, and a fleet of more than 5,000 trucks, cars, and other types of equipment. The Department clears litter, snow, and ice from approximately 6,500 miles of City streets and removes debris from vacant lots as well as abandoned vehicles from City streets.
Description
Position Summary: Under direction, with wide latitude for independent judgment and decision making, the Deputy Agency Chief Contracting Officer (ACCO) engages in detailed and complex procurement and contracting issues having significant financial consequences.
Responsibilities:
Assist all Bureaus in both the timely and efficient processing of formal contracts and small purchases for the agency to the most responsive and responsible contractors at the best price.
Help in the promotion and development of bidder's lists that encourage the participation of small, women and minority owned businesses.
Provide support and recommendations to the ACCO on all contracting decisions for the Department, which includes the review of contractor responsiveness and responsibility determinations, dispute resolutions, and setting of departmental policy as it directly relates to procurement.
Act as a liaison with management within the agency, other agencies, and oversight groups to advance the agency's program goals.
Develop internal procurement procedures that will streamline the procurement process.
Direct the training of all agency procurement personnel on procurement procedures, rules, and regulations.
Assist in both the development and writing of scopes of work as it directly relate to departmental needs.
Advise Department employees on the most efficient methods of procurement and specifications development so as to minimize cycle times, operating costs and to ensure continuity of departmental operations.
Ensure agency compliance with all Federal, State and Local Laws, rules, regulations, and initiatives regarding procurement, so as to avoid unnecessary administrative costs.
Direct the timely performance of audits of contracts and purchasing procedures to ensure optimal efficiency and compliance.
Manage, oversee, and direct the ACCO's office staff.
Requirements:
1. A master's degree from an accredited college in economics, finance, accounting, business or public administration, human resources management, management science, operations research, organizational behavior, industrial psychology, statistics, personnel administration, labor relations, psychology, sociology, human resources development, political science, urban studies or a closely related field, and two years of satisfactory full-time professional experience in one or a combination of the following: working with the budget of a large public or private concern in budget administration, accounting, economic or financial administration, or fiscal or economic research; in management or methods analysis, operations research, organizational research or program evaluation; in personnel or public administration, recruitment, position classification, personnel relations, employee benefits, staff development, employment program planning/administration, labor market research, economic planning, social services program planning/evaluation, or fiscal management; or in a related area. 18 months of this experience must have been in an executive, managerial, administrative or supervisory capacity. Supervision must have included supervising staff performing professional work in the areas described above; or
2. A baccalaureate degree from an accredited college and four years of professional experience in the areas described in "1" above, including the 18 months of executive, managerial, administrative or supervisory experience, as described in "1" above.
Preferred Skills:
Substantial experience in an administrative or managerial capacity.
Detailed knowledge of City Procurement Policy Board Rules, and City systems such as Financial Management System (FMS) and PASSPort
Salary: $102-163k annually