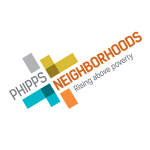 Phipps Neighborhoods
Phipps Neighborhoods serves approximately 10,000 children, teens and adults in three key areas that we have identified as the best ways to systematically address the risk factors associated with poverty. Our School and Community Education programs include early childhood education, after-school programs, community school engagement, and summer camps for school age children. To help older youth begin careers, our Learning and Career Development programs offer high school equivalency preparation, English for speakers of other languages, college prep, and work readiness services. And, to help our community members address the barriers that limit their success, we offer Community Resources including resident support, financial counseling, free tax prep, assistance accessing benefits, and more. These services are funded by government grants and contributions from foundations, corporations and individuals.
Description
Position Summary: The Case Manager at the Courtlandt Community site provides case management, outreach and counseling to the residents at this supportive housing facility.
Responsibilities:
Conduct a comprehensive intake assessment for all new residents and review the agency's policies and procedures with them. Develop treatment plan for all residents.
Maintain concise and accurate resident files.
Provide residents with necessary referrals, including emergencies such as hospitalization, detox, etc. Inform residents about on-site, agency and community resources that are available to them.
Participate in case conferences, staff meetings and training sessions and represent the agency at assigned meetings and conferences.
Input data in Awards data base daily for all of the consumers.
Attend professional development trainings, supervision meetings, case conferences, and staff meetings.
Work cooperatively with staff at all levels to ensure quality service provision and the development and improvement of team performance.
Meet with assigned residents on a biweekly basis to provide counseling and other assistance needed while ensuring progress notes, service plans and other related documents is updated accordingly.
Update Maven case records in accordance with DMH procedures.
Qualifications:
Bachelor's Degree preferred in Social Work, Psychology, Sociology, Human Services or related field. Minimum Associates Degree or 60 college credits with two to five years experience.
Must have a strong understanding of the Developmental and Behavioral Health needs of adults, sensitivity to ethnic and cultural diversity, and knowledge of and commitment to working from a strength-based perspective.
Applicant must have excellent written and verbal communication skills, as well as strong computer skills.
Bi-lingual (Spanish) a plus.
Salary: $28/hr